Perfect Peaches, Rose of Sharon, Dividing Perennials and Harvesting Veggies
The calendar has turned to August and our focus is keeping everything harvested, deadheaded, watered and sown for the fall. Not only is the kitchen humming with produce and cut flowers, but I'm also trying to stay on top of sowing seeds and transplants now for fall harvests.
One crop that's looking really good this year is our peaches. Living in a marginal zone 5 climate, peaches can be iffy year to year. But this year is a good one and I talk about growing them here.


While dividing perennial flowers may still be a few weeks off, I thought to include a video on how to do it so you'll be ready for the chore in late August and September. Also, it's important to keep harvesting your vegetables, especially zucchinis, beans and cucumber. I talk about why, here, in this video.
Finally, on our Philadelphia Area Garden Bus tour we saw Rose of Sharon blooming all over. I talk about this late summer shrub with ideas on varieties and where to grow it.
Also, I realize that my photos of the Philadelphia Area Garden Tour didn't come through in the last newsletter, so here's a link to the updated page so you can get a sense of the gardens we saw.
I'm off to the Garden Writers Conference in Buffalo, New York. Enjoy August in the garden. Until next time, I'll be seeing you in the garden.
Charlie
---
Where to Find Charlie: (podcasts, TV and in-person)
---
Fresh peaches eaten warm right off the tree is like eating fresh vine ripened tomatoes. There's nothing that compares in the food world. Peaches are a great crop for a small space gardener or someone wanting to grow a few ornamental/edible trees in their yard. The beautiful pink flowers in spring give way to luscious summer fruits. They're fast to grow and reach maturity and, if you live in zone 5 and warmer climates, they're pretty good about producing a crop every year. In fact, peaches are too good, sometimes. They tend to set more fruits than the tree can hold and the weight can cause branches to break.
There are many varieties to try but here are some unusual ones and varieties for special conditions. Hardiness is an issue with peaches. It's not just the trees, but more importantly the blossoms that can be zapped by a late spring frost. In a cold climate, try hardy varieties, such as 'Reliance' and 'Contender', to get the best chance to harvest peaches. If peach leaf curl disease is an issue, try the resistant 'Frost' variety. If space is a problem or you want to grow peaches in a container, look for naturally dwarf varieties such as 'El Dorado'. If you want a peach that has attractive foliage color, try the burgundy leaf colored 'Bonfire'. Finally, if you like those donut-shaped peaches you see in stores, try 'Saturn'.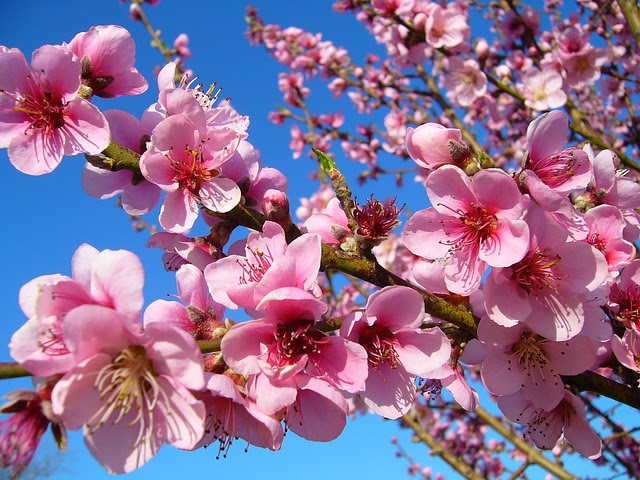 Peaches need full sun, well-drained soil and protection from cold winds. In cold areas plant on a east facing slope, if possible, to slow the opening of flowers in spring. Peaches should be pruned to a vase shape. Fertilize in spring to get at least 12 inches of new growth a year and thin peach fruits to 6 inches apart on the branch.  When the peach fruits background color goes from green to yellow, it's time to harvest, even if the fruits are still hard. Watch for borers and gummosis disease in the trunk which causes a bronze colored sap to ooze from the trunk.  Oh yes, and in urban and suburban areas, protect the trees from squirrels, who love to steal ripening fruit. Use baffles on the trunk and netting.
Learn more about growing peaches here.
Mid to late summer can be a green time for flowering shrubs and small trees. Not many of these plants bloom or have interesting color until the fall foliage season starts. However, one exception is the Rose of Sharon (Hibiscus syriacus). Rose of Sharon has a confusing common name. It's not a rose. It's mentioned in the Bible, but probably was referring to  bulb that grows on the plains of Lebanon. There's a European evergreen shrub called by this name, too. But the shrub I'm talking about is in the Malva family, hails from Asia and is the national flower of South Korea.
Rose of Sharon grows 8 to 12 feet tall and 4 feet wide. It has hibiscus-like flowers in single or double forms that range in colors from white to purple. Newer varieties, such as Chiffon series, have flowers that stay longer than one day. Some varieties have variegated leaves, 'Sugar Tip' and others are dwarf, 'Lil Kim', so can fit in small spaces.
This large shrub needs room to grow. Plant it in a hedgerow with viburnums, dogwoods, nine bark and other large shrubs or plant it as a specimen in the lawn or on the corner of the house. The flowers form on new wood growing in spring, so prune in late winter to shape and encourage more blossoms. Older varieties have blossoms with viable seed so the plant can self sow and become weedy. Newer varieties have sterile seed. Not only are the flowers beautiful, they are edible, too, and make a nice addition to a fall salad.
Go here for more information on growing Rose of Sharon. 
This is a good time of year to assess your perennial flower garden. In particular, look at those perennials that have grown into brutes. Daylilies are a good example in our garden. Sometimes perennials get too big for a space or too large and stop flowering well. The solution for many is dividing.
The rule of thumb is divide spring blooming flowers, such as peonies and iris, in late summer or fall and fall bloomers, such as aster and rudbeckia, in spring. Then there are the "hard to kill" perennials, such as dayliles, hostas and bee balm, that I divide whenever I have the time and inclination. Obviously, it's best to divide plants on a cool, cloudy day and to water them in well.


When dividing, always check for diseases on roots or rhizomes, such as iris borer damage on bearded irises. I like to separate plants into 1 foot diameter divisions and cut back the leaves to about 6 inches tall. Usually I can get away with using a sharp spade or my hands, but for tough perennials, such as ornamental grasses, you may need a garden saw or chainsaw (just kidding). Also, if you're sharing your divisions with friends and neighbors, carefully check the root ball for insects and perennial weeds. There's nothing worse than sharing a clump of phlox with a friend only to introduce gout weed into their garden.
Watch this video on dividing perennials for more tips.
I know I probably should have shown you this video a month ago, but better late than never. If you want to keep the green beans, cucumbers, peppers, and zucchini crop producing well into summer, and maybe fall, harvest early and often. The mission of fruiting vegetables is to form a mature seed. Once that happens, the plant stops producing. You can keep it going by harvesting beans  when thin, zucchini with the flower still attached (the flowers are tasty too) and cukes when small. If you miss one, and who hasn't in the garden, still pick and compost it to prevent the seeds inside from maturing.
If you have cantaloupes, harvest when they slip from the vine when lifted. For watermelons, read my article here for harvesting tips. Send me an email if you're wondering when to harvest a particular veggie.
For more on harvesting veggies, check out my video.